Palabras clave
AlllegarArequipa
,
Alternative tours
,
Arequipa
,
ArequipaPerú
,
ArequipaPuno
,
Arequipatours
,
Aventura
,
BesttoursinArequipa
,
campiña
,
campiñaarequipeña
,
Colcacanyon
,
horseriding
,
Horseridingcolca
,
Tours en Arequipa
,
toursonthenature
Código del viaje
WT-CODE 1098
Overview
Trip Outline
Trip Includes
Trip Excludes
Gallery
Reviews
Booking
FAQ
2-Day Colca Canyon including horse riding from Arequipa
Horse riding on the Colca 2days tour, you can go on a beautiful route of about three hours.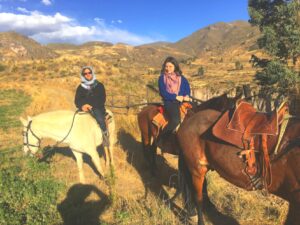 2-Day Colca Canyon including horse riding from Arequipa
Day 01. Arequipa - National reserve - Horseback riding - Yanque
Pick up: 07:30am from your hotel in Arequipa city
We start our journey to the Colca Valley with others more travelers and during the first day we make stops along the road north in Pampa Cañahuas (National Reserve Salinas and Aguada Blanca vicuña reserve), Tocrapampa (ponds, wetlands, Patapampa viewpoint of the Andes, 4900 meters), this place is the highest in the Colca circuit and one of the viewpoints ideals of the Andes surrounded by volcanoes as Sabancaya  Ampato Hualca Hualca where there is a pre-Inca cemetery and is the tutelary deity of the Colca Valley.
We are going to appreciate a variety of flora and fauna of the area and a panoramic view of the slopes and terraces formed during the geological erosion of the canyon on the road.
Arrival to Chivay  town then lunch next will  get to the hotel, check in (Yanque village). At at 15:00h the local guide will pick you up from your hotel and to start the Horse-riding around countryside in Colca Valley  visiting visit local people  old Yanque village then even durind the ride there we could find hot springs.
Back to the village.
Overnight at the hotel.
Day 02. Yanque – viewpoint to see canyon + condors – Chivay – Arequipa
06:00 Breakfast in the hotel.
06:40 pick you up from the hotel then we are going to start the trip by tourist bus for 1 hour to the Mirador de la Cruz Del Condor for a spectacular view of the flight of the andean Condors while observing the depth of the Colca Canyon, the deepest in the world.
There we stay approximately for 1 hour. In addition, here we can make a walk for 40 minutes. (optional). The return will be with  some stops like in the traditional villages of Maca, tourist viewpoints are on the road to returning to Chivay, place where we stop for about 1 hour to have lunch.
Back to the Arequipa city.
 City center drop off  approximately at 16:30h/04:30pm
Itineraries
Day 1
Arequipa - National reserve - Horseback riding Colca - Yanque
Day 2
Yanque – viewpoint to see canyon + condors – Chivay – Arequipa
Pick up from the hotel (day 1)
Shared touristic  bus
Official bilingual tour guide
Horseback riding in Colca Valley (Horses, local guide spanish, equipment)
01 night in the Colca Valley in the standart hotel
Breakfast (day 2)
Meals (2 lunch -1 dinner) *optional
Entrance fee (boleto turístico Colca) 70 soles p/p (mandatory)
Entrance to the Hot Springs 15 soles p/p *optional
✳ Clothes suitable for rain, cold and sun
✳ Pants suitable for the horseback riding tour long
✳ Small luggage only for two days
✳ Cash to pay entrance fee 70 soles each one
✳ Cash to pay meals
✳ Snacks and water