Palabras clave
Arequipa
,
Arequipatours
,
Colca
,
lagunadesalinas
,
mountains
,
Nature
,
Rutadelsillar
,
Salinaslagoon
,
sharedtoursinarequipa
,
sillarroute
,
Tours en Arequipa
,
toursgrupalesenarequipa
Código del viaje
WT-CODE 873
Resumen
Resumen del viaje
El viaje incluye
El viaje excluye
Galería
Reseñas
Reserva
FAQ
3-Day Arequipa&Colca Canyon with hotel ***
Few days in the 'White City' of Arequipa? Our guide will make sure you're never bored.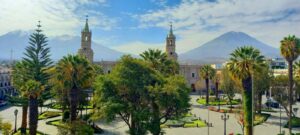 3-Day Arequipa&Colca Canyon with hotel ***
Day 1. Transfer in & Arequipa walking tour (9am or 2pm)
Walking tour Arequipa is the best way to start getting to know this beautiful Peruvian city. You will walk through the most emblematic points of the White City.
We explore the temples and museums that are arranged around the square, such as the Church of San Francisco, the Temple of the Lesser Franciscan Order, the Guillermo Zegarra Meneses Municipal Historical Museum or the Casona del Fundo el Fierro.
The walking tour take us for a walk through the oldest neighborhood in the city, the Barrio de San Lázaro.
We will contemplate its typical narrow streets full of houses built of volcanic stone and ashlar and decorated with flowers. They will immediately fall in love with its particular charm!
To fully understand the culture of Arequipa, we will stop at Mundo Alpaca, a kind of interactive zoo with llamas and alpacas, two of the most representative animals in the country. We will learn to recognize the different races, as well as the process of making wool.
The next stop will be at the emblematic Plaza de Armas, where the Cathedral and the Cloisters of the Society of Jesus are located. The tour end in the Santa Catalina Monastery one of the most fascinating religious buildings in Peru.
Overnight in Arequipa
Day 2. Arequipa, Colca Canyon, national reserve, Chivay

7:30 am I pick up from the hotel and after the indications of our guide we go along the north highway to Chivay on the way there will be a small stop in Pampa Cañahuas national reserve of salinas and Agua Blanca.
Reserve of vicuñas, Tocrapampa, lagunillas, bofedales, Patapampa viewpoint of the Andes located at 4830 meters above sea level. Arriving at the town of Chivay we will have lunch and later we will visit the hot springs.
After dinner  - Overnight in Chivay.
Day 3. Chivay, Colca Canyon viewpoint, cóndors, Arequipa
Breakfast very early then we go to the Cruz del Cóndor viewpoint to have a spectacular view of the flight of the condors and observe the depth of the Colca canyon.
We stop in this place for 2 hours approximately and when we come back  we will make some stops in the traditional village like Maca and viewpoints.
We stop in Chivay to have lunch.
Then toward Arequipa city arriving approximaletly At 17:00h.
Transfer to the airport or bus station.
¨End of the tour¨
Itineraries
Día 1
Early transfer (aeropuerto - hotel) Arequipa City tour
Día 2
Arequipa / Colca Canyon / Chivay
Día 3
Colca / Cross of condor viewpont / Canyon / Arequipa
Transfer in/out
01 nights hotel in Arequipa (Casa Andina *** or similar)
City tour Arequipa + Santa Catalina Monastery (english guide)
Tour Colca canyon 2days (bus/tour guide/breakfast/hotel)
01 night hotel in Colca (Casa Andina *** or similar)
Pick ups
Meals (Lunch, dinner/breakfast not mentioned) *Optional
Entrance fee Colca USD 18 p/p (mandatory)
Hot Spring USD 5.00 p/p *optional
Snacks
-Suitable clothes (for sun/cold/rain)
-Sun protect
-Mosquitos repellent
- Cash to pay the entrance ticket 70 soles p/p (mandatory)
- Cash for lunch, dinner and for the entrance to the thermal baths (optional)
- Snacks/ water
- Sunscreen
- Luggage Only for 2 days of tour for Colca tour.
- Rain clothes (January to March)