Palabras clave :
Arequipa
,
Arequipatours
,
Colca
,
lagunadesalinas
,
mountains
,
Nature
,
Rutadelsillar
,
Salinaslagoon
,
sharedtoursinarequipa
,
sillarroute
,
Tours en Arequipa
,
toursgrupalesenarequipa
Código del viaje
WT-CODE 873
Resumen
Resumen del viaje
El viaje incluye
El viaje excluye
Galería
Reseñas
Reserva
FAQ
3d/2n Arequipa - Colca Canyon - Salinas Salt lagoon
Few days in the 'White City' of Arequipa? Our guide will make sure you're never bored.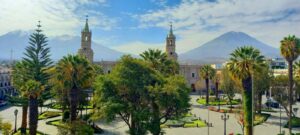 3d/2n Arequipa  Sillar Route Colca and Salt Lagoon

Day 1. Early transfer (aeropuerto - hotel)  Sillar Route
Arequipa's Sillar Route & Culebrillas
Pick up from your hotel.
08:30 We start our trip towards the Ruta del Sillar which is a tourist route with a lot of history and living culture where you can visit quarries and areas where the ashlar originated.
The first point where we stop be the Añashuayco Quarry; To which we arrive in about 45 minutes. It is currently in operation the masons carry out their work very early; In the place we will be able to appreciate an immense canyon with cliffs (ignimbrite walls) that are several meters high, formed by the extraction for the formation of the Ashlars.
In this route you can see a mega carving of the Church (La Compañía de Jesús) made by the masons themselves. We can also visit some of them to explain to us what their daily work is like and so that we can experience the fact of cutting one of their stone blocks.
Then we move to the Quebrada de Culebrillas which is 30 minutes fromAñashuayco. At this point, we will take a walk of approximately 20 minutes inside the small canyon formed by the passage of water, which has walls of 15 to 20 meters, while we enter the canyon, the canyon walls are increasing in height.
At the end of the walk we can see petroglyphs made by the Wari culture more than a thousand years ago.
Night in Arequipa (La Casa de Margott hostal or similar)
Day 2. Colca Canyon / Arequipa
03:00 to 03:30 am Pick up from your hotel and we travel direct to Chivay town in the early morning.
06:00 am approximately we will have breakfast then we continue to the Cruz del Cóndor. In this place we will stay for about an hour to observe the depth of the Colca Canyon and the majestic flight of the condors.
We return with some stops at different viewpoints (Choquetico and Antahuilque, Tumbas and Lito model), optional visit to the thermal baths.
Free time to have lunch by your expences.
Back to Arequipa city with stops at the torist viewpoints such as the highest point and the National Reserve of Salinas and Aguada Blanca such as: (Pata pampa and Tocra pampa, National Reserve of Salinas and Aguada Blanca).
Arrival in Arequipa at approximately 6:00 pm and the tour ends in the historic center near the main square.
Night in Arequipa (La Casa de Margott hostal or similar)
Day 3. Salinas salt Lagoon group tour / Arequipa
Departure: 06:00
End of the tour: 17:00
Salinas salt lagoon is located at the back of the Misti volcano and the mountain of Pichu Pichu, from Arequipa it can be reached by paved road towards Baños de Jesús and Chiguata (3000M) and then uphill following a dirt road and potholes in the slopes of Pichu Pichu passing a peculiar Andean forest known as queñuales and de la Yareta (Azorella compacta) - the distance from Arequipa to Salinas laguna salada is 68km and the driving takes around 3 hours - the road passes through Misti volcano and Pichu Pichu mountain.
We visit the following places following the left bank:
Salinas Luicho where we will find native life, South American camelids such as vicuñas guanacos and also alpacas llamas.
Ojito of thermal water.
Wildlife such as birds of many species Salinera de Sal, we can enter if there is little water in the lagoon.
Ñuñu volcano.
Ubinas volcano viewpoint.
Total walk: 3km maximum, most visits will be done by car.
Transfer out aeropuerto or bus station. End of the tour.
Itinerarios
Día 1
Early transfer (aeropuerto - hotel) Sillar Route
Día 2
Arequipa / Colca Canyon / Arequipa
Día 3
Salinas salt Lagoon group tour / Arequipa
Transfer in/out
02 nights in Arequipa (la Casa de Margott or similar)
Tour Sillar route (bus/tour guide)
Tour Colca Canyon full day (bus/tour guide/breakfast)
Tour Salinas salt lagoon (bus, tour guide)
Pick ups
Meals (lunch / dinner / breaksfast)
Entrance fee in Sillar Route tour (8 soles)
Entrance fee Colca (20 0r 70 soles)
Entrance fee Salinas (5 soles)
-Suitable clothes (for sun/cold/rain)
-Small backpack for day trips
-Sun protect
-Mosquitos repellent