AlternativeRainbowMountain
Overview
Trip Outline
Trip Includes
Trip Excludes
Gallery
Reviews
Booking
FAQ
Alternative Rainbow Mountain Palccoyo Hike
The Rainbow Mountain in Peru has received a lot of attention lately and it is definitely one of the top places to visit in Cusco. When you are in the city of the Incas, we highly recommend doing the Tres Rainbows hike and get to know these postcard-like mountains and its unique landscape.
The Rainbow Mountains in Peru will astonish you immediately because of their variety of colors due to the existing minerals in the soil.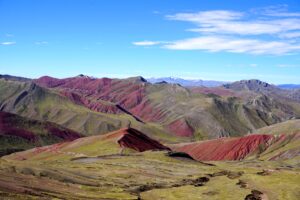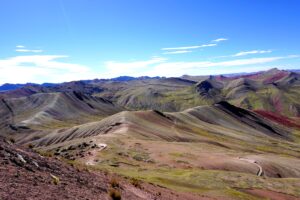 Alternative Rainbow Mountain Palccoyo Hike
This is not the typical trekking tour to the Vinicunca Rainbow Mountain where you will be with hundreds of other tourists fighting to get the best photo with no people on it. This is the alternative rainbow mountain tour on which you will not only see "one" Rainbow Mountain but three and the hike is only 1 hour (1.5 km/0.9 miles each way) instead of 3 hours.

Also, you will not be bothered by large tourist groups around and you might even be accompanied by an alpaca or llama during the hike. With us, you will arrive first at the Rainbow Mountains and also get to know more about the local community living there.

3:45 am: Pick-up from your hotel in Cusco

5:30 am: Breakfast in local restaurant

8:00 am: Optional visit of the Palccoyo community and its potato museum (depends on community's availability)

9:30 am: Arrival at the parking lot (view of the 1st rainbow mountain) + Briefing

10:00 am: Visit of the 2nd rainbow mountain

10:30 am: Visit of the 3rd rainbow mountain

11:00 am: Hike up to the stone forest (optional) with a spectacular view

11:30 am: Head back to the car and drive to the restaurant

13:50 pm: Lunch in local restaurant

15:30 pm: Arrival in Cusco and drop-off at your hotel
Itineraries
Day 1
Time : 3:30 AM
Cusco - Rainbow Mountain Palccoyo - Back in Cusco
10:00pm End of the tour in Cusco approximately.
Hotel pickup and drop-off by professional driver

English speaking licensed local tour guide

Breakfast and lunch (vegetarian and vegan food options available)

Hike with alpaca or llama (depends on availability and weather, we can't decide which animal will join us as this depends on the community)

Trekking poles

First-aid kit and oxygen
Entrance to the Rainbow Mountain area (S/ 10)

Tips for your guide

Beverages

Snacks

Personal equipment
Pricing Name

Start

End

Group (Min-Max)

Pricing
•Bring change in order to pay small expenses, such as for using the restroom or to support the locals by buying their handicrafts (from 4 up to 100 soles). Donations to the community, such as old clothes or utilities, such as pens, notebooks etc. are more than welcome.
•Clothing: Bring your backpack, a rain cape, gloves, a hat, hiking shoes, an extra pair of socks and wear layers of hiking clothes so you'll be warm
•Bring sunscreen, sunglasses and some extra money
•Pack some snacks