Código del viaje
WT-CODE 865
Resumen
Resumen del viaje
El viaje incluye
El viaje excluye
Galería
Reseñas
Reserva
FAQ
Arequipa in a day - Discover one of Peru's finest cities
08:45 am Viewpoints - Sillars route - Culebrillas
02:00pm Arequipa walking tour (city center)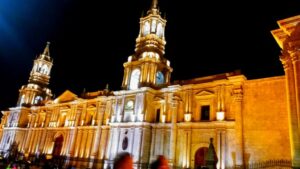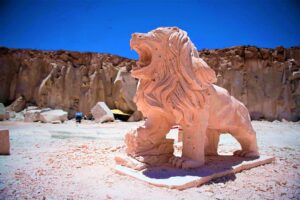 Arequipa in a Day
Pick up from the hotel or airport.
08:45 am Viewpoints - Sillars route - Culebrillas

We begin our journey to the Ruta del Sillar which is a tourist route with a lot of history and living culture, where you can visit quarries and areas where the sillar originated. The first point where we will stop will be the YANAHUARA viewpoint then VOLCANOES VIEWPONIT and Chilina valleythen we will continue to CANTERAS AÑASHUAYCO.

Currently it is in operation, the stonemasons perform their work from very early; in the place we will be able to appreciate an immense canyon with farallones (walls of ignimbrita)


Then we will move to the Quebrada de Culebrillas, which is 30 minutes away from Añashuayco.

Arriving at this point we will make a walk of approximately 20 minutes inside the small canyon formed by the passage of water, which has walls of 15 to 20 meters, while we enter it the walls of the canyon are increasing in height.
02:00pm Arequipa walking tour (city center)
We meet at the time you choose 9:00 am or 2:00 pm in our office at 311A ​​Jerusalem Street, Second Floor Office # 6, in the historic center of Arequipa. From here we will start a walking route to know the most emblematic points of the so-called White City of Arequipa.
We will explore the temples and museums that are arranged around the square such as the Church of San Francisco, the Temple of the Lesser Franciscan Order, the Guillermo Zegarra Meneses Municipal Historical Museum or the Casona del Fundo el Fierro.
The free tour of Arequipa will take us for a walk through the oldest neighborhood in the city, the Barrio de San Lázaro. We will contemplate its typical narrow streets full of houses built of volcanic stone and ashlar and decorated with flowers. You will immediately fall in love with its particular charm!
To fully understand the culture of Arequipa, we will stop at Mundo Alpaca, a kind of interactive zoo with llamas and alpacas, two of the most representative animals in the country. We will learn to recognize the different races, as well as the process of making wool.
The next stop will be at the emblematic Plaza de Armas, where the Cathedral and the Cloisters of the Society of Jesus are located. To conclude the free tour of Arequipa in the best possible way we enter a typical place where if you wish we can taste the delicious Peruvian pisco.
Itineraries
Día 1
08:45 am Viewpoints - Sillars route & Arequipa walking tour
08:45 am Viewpoints - Sillars route - Culebrillas
02:00pm Arequipa walking tour (city center)
Tourist transport
Tour guide
Entrance fee (Sillar route 8 soles)
-Sunscream
-Mosquitos repellent
-Cash