Keywords :
Alternative tours
,
Arequipa
,
ArequipaPerú
,
Cañon del Colca
,
Colca
,
helplocalpeople
,
Nature
,
outofthecity
,
Peru
,
toursenl
,
toursonthenature
Overview
Trip Outline
Trip Includes
Trip Excludes
Gallery
Reviews
Booking
FAQ
Colca Canyon 2days including visit to Chocolaqa ¨stone forest¨
Colca Canyon is one most visited place so if you are in Arequipa don't miss it.
Take advantage to know CHOCOLAQA stone forest that is a quiet and full of nature area and less touristic it is now as new alternative.
With this tour you will see how was forming the canyon also you will feel nearest of locals.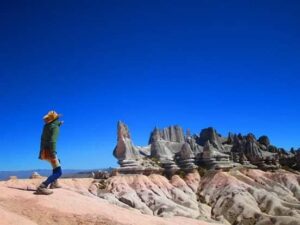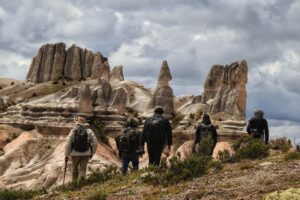 Colca Canyon 2days including visit to Chocolaqa ¨stone forest¨
Day 01. Arequipa - Colca Canyon - Chivay
03:00AM Hotel pick you up then direct travel for 3 hours to Chivay village; The capital of the Colca Canyon in a northwesterly direction behind Misti and Chachani covered in snow.

We will arrive at the town of Yanque there we will have breakfast.

Then we continue driving for 1 hour and a half to the most visited point "La Cruz del condor" cross of condor viewpoint we can see the depth of the canyon and the flight of the Condor.

The area features beautiful typical towns, such as Yanque and Maca, colonial churches, gently people with typical sewing dresses, hundreds of pre-Inca terraces that are still used with Andean crops such as corn, quinoa, kiwicha, among others. In addition, we will visit the thermal water pools that the entrance fee is additional for which we have 45 free minutes.

Then we will visit the city of Chivay for lunch.

After lunch, we will leave you in the hotel and you will have  free afternoon for aclimatization.

Overnight in Chivay.
Day 02. Chocolaqa stone forest 4500 m.a.s.l. - Arequipa
Breakfast very early

05:00AM Depart from Chivay for 3 hours to the Chivay-Tuti-Sibayo-Callalli-Tisco route.

The route is along a track and trail road with a panoramic view of the Andes.

Lagoons, mountains, herds of alpacas.

We arrive at the place called CHOCOLAQA, an impressive geological formation based on volcanic smell.

To appreciate the different capricious formations we start a 2-3 hour walk, capturing unique views of the place.

Later; Return to Arequipa city with some stops at the Salinas y Aguada Blanca National Reserve.

18:30 End of the tour in the historic city center or at the your hotel.
Itineraries
Day 1
Time : 3:00 AM
Arequipa - Colca Canyon - Chivay
Day 2
Time : 5:00 AM
Chivay - Chocolaqa stone forest 4500 m.a.s.l. - Arequipa
Official bilingual tour guide

Tourist transportation

Meals (breakfasts)

01 hotel night in Chivay

Hotel pickup

Private transportation (Chivay –Chocolaqa - Arequipa)

Hiking tour guide

Gallon of oxygen in mobility

Water and snacks
Meals (lunches, dinners)

Snacks

Entrance fee tourist ticket USD 21.00 p/p

Thermal Baths entrance ticket USD 5.00 p/p * optional.
Pricing Name

Start

End

Group (Min-Max)

Pricing
•Sunscreen, sunglasses, clothing, long pants, snacks, rain gear (December to March).
•Cash for (entrance fee, meals and hot springs)
•Small backpack
•Water personal snack
•Suitable clothes for the mountain.
•Hiking shoes