TiticacalakeUrosandTaquile
Código del viaje
WT-CODE 286
Overview
Trip Outline
Trip Includes
Trip Excludes
Gallery
Reviews
Booking
FAQ
Day trip Titicaca lake tour Uros and Taquile
You will discover the traditions, history, and stunning landscapes of Titicaca Lake.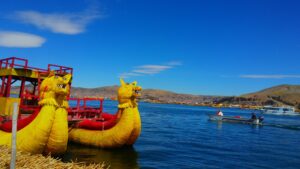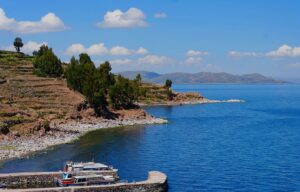 Day trip Titicaca lake tour Uros and Taquile
06:30 hrs. Early in the morning you will be picked up from your hotel in Puno by our local guide and then transferred to the harbor.

We start off our boat excursion of Lake Titicaca by visiting "The Uros Floating Islands", a small community that has lived on these reed Islands for decades.

Centuries ago the small indigenous Uros tribe conceived of the islands as a way to isolate and protect themselves from rival tribes, the Collas and the Incas.

The Uros people harvested the reeds in the shallows of the lake, bundled them together tightly and built floating island platforms complete with reed houses and canoes, creating in this way their own little world. On the islands we will learn with our local guide about the life style and customs.

After strolling around the floating Islands, we continue our journey towards "Taquile Island" (2-hour approx.), a traditional Quechua speaking community, full of ancient agricultural terraces. The Taquile population was relatively isolated from the mainland until 1950s, and the notion of the community and family is still very strong among them.

The weaving tradition of the Taquile Island goes back to early civilizations, thus keeps elements from pre-Inca Andean cultures alive in the present. All weaving is done on pre-Inca fixed and pedal looms. The most characteristic garments are the so-called "Chullo", a knitted hat with an earflap, and "The Calendar Waistband", depicting the annual cycles connected to ritual and agricultural activities.

When we reach the shores of Taquile Island, we will have to walk up along a narrow path, enjoying on the way impressive views of the Lake Titicaca and also see gorgeous little houses inhabited by the direct decedents of the Inca Culture.

At the top of the Island, you will have free time to explore this place on your own and afterwards you will meet the group for lunch at one local restaurant.

After lunch, we will descent to the harbor to take our boat back to Puno.

We will be back in Puno at 17:00 hrs. Approximately. End of the tour.
Itineraries
Day 1
Hora : 6:30 AM
Puno - Uros islands - Taquile island - Puno
End of the tour at: 17:00 in Puno city
Pick up from your hotel in Puno and transfer to the harbor of the lake Titicaca

Tourist boat transportation with toilet facilities on board

Entrance fees

Professional English speaking tour guide

Lunch included on the taquile island

Drop off at your hotel in Puno at the end of the tour
-Warm clothing as temperatures in the afternoon are very cold sometimes
-We strongly suggest to bring along, gloves, wooly hats, chocolates and a bottle of water
-Sun block is extremely important as at this altitude the sun rays are sometimes unmerciful