Paseo a Caballo en la Campiña Arequipeña Recorre la campiña arequipeña de una manera distinta. Disfruta de esta salida a caballo por una ruta agradable…
Código del viaje
WT-CODE 721
Overview
Trip Outline
Trip Includes
Trip Excludes
Gallery
Reviews
Booking
FAQ
Horseback Riding in Arequipa city's Countryside
Another way to get to know the Arequipa city only in half day! 🏇🏻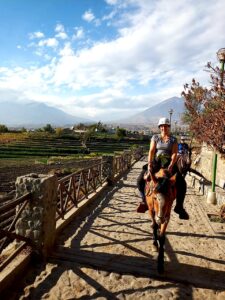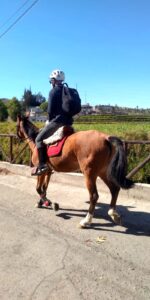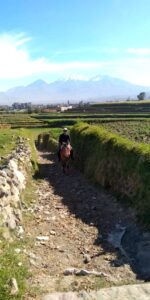 Horseback Riding in Arequipa city's Countryside
Departs at 8:00am  and 2:00pm
Pick up from your hotel and transfer to Chilina valley or to the Sabandía or Paucarpata (2400m) The saddle horses will be ready.
In both areas we receive driving courses and explanations about how to obtain a greater contact with our paso horses horseback riding on the pleasant track between pre-Inca terraces, crossing small rivers. We meet the local people spectacular views of the Misti (5825m) and the Chachani (6070m) volcanoes that surround Arequipa.
People who have experience can gallop down the river, in the middle of the way a stop to rest.
After 2 hours of horseback riding  transfer back to the hotel in Arequipa.
We also offer options of routes for more hours of horseriding.
Itineraries
Day 1
Arequipa city center - countryside
Departures:
08:00am
02:00pm
Tour guide (spanish speaker)

Transfer between hotel - barn - hotel
Snacks  / bottle of water

Tips
-Shoes or boots
- Face mask
- Sunscreen
- Sunglasses
- Water and snacks
- Long pants