Machu Picchu tour in one day
Código del viaje
WT-CODE 280
Overview
Trip Outline
Trip Includes
Trip Excludes
Gallery
Reviews
Booking
FAQ
Machu Picchu tour in one day
Enjoy Machu Picchu Tour in 1 Day with us.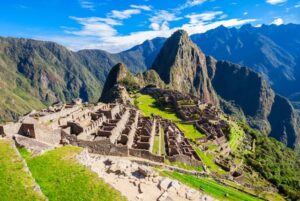 Machu Picchu tour in one day
Choose the date of the tour we offer guaranteed daily departures for singles and groups of all ages. This tour starts and ends at your hotel in Cusco and the trip is by train but before that we will pick you up from your hotel in Cusco and transfer you to the train station.

05:30 - 07:30 Transfer by bus from your Hotel to train station in Cusco or Ollantaytambo.

07:45 - 09:15 Train trip from to Aguas Calientes.

09:15 - 09:25 Reception at the Aguas Calientes station.

09:30 - 10:00 Ascent by bus from Aguas Calientes to the archaeological site of Machu Picchu where we will provide you a PRIVATE TOUR GUIDE.

10:00 - 12:30 Guided tour of one of the 7 Wonders of the Modern World - Machu Picchu.

13:00 - 18:00 Free time for the return by bus from Machu Picchu to Aguas Calientes, have lunch, visit the town, relax in the Thermal Baths, etc.

18:30 - 20:20 Train trip back to Ollantaytambo.

20:30 - 22:30 Return by bus from Ollantaytambo to the city of Cusco.

Get back times are approximately maybe it could to have a little change.
Pick up /drop off

Round trip train ticket (shared)

Bus ticket to MachuPicchu (up/down shared)

Tour guide in MachuPicchu (private)

Entrance fee to MachuPicchu 
Food & drinks
Tip or gratuity
-Small backpack with personal thing only for the day.
-Rain jacket
-Passport
-Tickets