Código del viaje
WT-CODE 1009
Resumen
Resumen del viaje
El viaje incluye
El viaje excluye
Galería
Reseñas
Reserva
FAQ
Misti Volcano 2-Days Climbing Trip
Wonderful views into a volcanic crater and of the surrounding area.
Climb in 2 days and grab a wonderful trekking peak.
Suitable for all levels of well-acclimatised walkers and hikers.
Professional and certified as mountain guides and support staff give you the best chance of making the summit.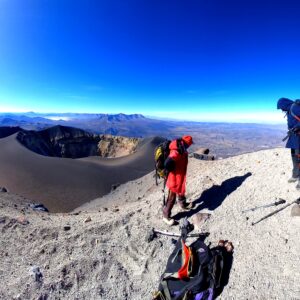 Misti Volcano 2-Days Climbing Trip
Day 1. Arequipa city to basic camp
At 8.00am we leave Arequipa in a 4x4 vehicle. At the north side of Misti on 3'500 m we start with the tour. Every participant receives at this point his sleeping bag, tent, plate, fork… and everything else.
Everybody needs to carry everything by him or herself. After a short break for having lunch we continue until the basic camp on 4'600 m.
The whole walk takes about 6 hours. At the camp we are going to have dinner very early and then go to bed at around 5.00pm. It is possible to get vegetarian food.
Day 2. Basic camp to crater -back to Arequipa city
Early in the morning at around 1.00am we start again and are going all the way up to the top. On the way we have a few short stops to relax. From the top we can see the main crater and another smaller one. We also have a beautiful view on Arequipa and the volcanoes Chachani, Pichu Pichu, Coropuna and Ampato.
After about 15-30 minutes we are going down again to the basic camp. After a short break we start walking all the way down to 3'500 m where the car is waiting for us to take us back to Arequipa. We will arrive at around 2pm. Minimum altitude: 3500m.
Maximum altitude: 5825m.
Itineraries
Día 1. Arequipa city to basic camp
6 hours hiking approximately
Dia 2. Basic camp to crater -back to Arequipa city
5 hours hiking approximately
Pick you up from your hotel and private transport in Arequipa to get to the starting point of the activity (round trip)
Official mountain guide.
Meals during the activity. 01 dinner – 01 breakfast
Two-person tents, kitchen and dining tent, and all necessary implements
Entry fee
Mountain Equipment
Personal equipment (Sleeping Bag, suitable clothing, Backpack,, hiking shoes)
5 liters water and  Snack
Lunch first day
 Lunch and snacks
 Personal equipmente (Mountain shoes, Headlamp, Sleeping bag, 60 liters backpack, Walking sticks, gloves, hat, synthetic lining, fleece lining and waterproof)
 Bottles of water 5 liters
 Tip