Palabras clave
Alternative tours
,
ArequipaPerú
,
Colcacanyon
,
Cusco
,
CuscoPeru
,
Machupicchu
,
Nature
,
Peru
,
PunoPeru
,
RainbowmountainPeru
,
Titicacalake
Código del viaje
WT-CODE 374
Overview
Trip Outline
Trip Includes
Trip Excludes
Gallery
Reviews
Booking
FAQ
Perú tour  10 days starting in Arequipa city
The perfect itinerary when short on time to show you all around our land full of hidden treasures, you will take excursions to the most wonderful places in Peru Inca's land.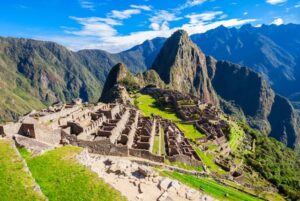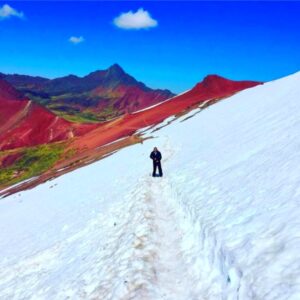 Perú tour 10 days starting in Arequipa city
Day 01. Arrival in Arequipa in the late Morning or early afternoon, Free day
Arrival time in Arequipa, free day.
Overnight hotel standart *** Doubles or twins rooms.
Day 2. City tour in Arequipa
Included
Minivan
Official english tour guide
Entrance Fee
Ticket Santa Catalina Monastery
Tour guide Inside The Monastery
Itinerary
Visit Plaza de Armas
Yanahuara viewpoint
Carmen alto Viewpoit
Churchs
Cloisters
Cathedral and main square
Traditional Mercado San Camilo
Santa Catalina Monastery     
Overnight hotel standart ***  Doubles or twins rooms.
Day 3.  Colca Canyon 2d/1n with short hiking in Yanque Village 
Included
Private Tourist transport
Official English Guide
Breakfast second day
Short hiking with local guide 2 hours in Yanque village     
Hotel night
Not Included
Meals 02 Lunch 01 dinner
Entrance fee Colca 70 soles pp
Hot Spring *optional
Entrance fee to Sillustani tombs
Arequipa National Reserve short hiking in Yanque village
07:30 Pick up from your hotel in Arequipa
We leave to the Chivay Village making some stops along the road north in Pampa Cañahuas (Salinas and Aguada Blanca National Reservation, vicuña reserve) Tocrapampa (ponds wetlands) Patapampa (viewpoint of the Andes, 4830 m), Arrival at the Chivay town there we stop for lunchtime. Continue the journey to the Yanque Village 15 minutes more and we will arrive to the hotel that will reserved by your own. 
15:00 we will do a hiking with our local guide around the countryside visit *hanging tombs *Inca ruins and Inca terraces *local people and at the end we are going to visit the rejuvenating *hot springs all hiking will be with a local guide. Return to the hotel.   
Overnight hotel standart *** Doubles or twins rooms.
Day 4.  Yanque village - Cross of Condor - Canyon Chivay Puno by Sillustani     
 06:45 After breakfast we are going to go to the Mirador de la Cruz del Condor for a spectacular view of the flight of the Condors and observe the depth of the Colca canyon, we stop more than an hour. Then will return with more stops in the traditional villages like Pinchollo, Maca, Yanque and viewpoints like Choquetico antahuillque. In Chivay will stop for lunchtime.
Then we will depart between Chivay to Puno with some stops in the route including Sillustani tombs.
Arribe in Puno to your hotel at 19:00 aproximately.
Overnight hotel standart *** Doubles or twins room.
Day 5.  Visting Titicaca lake islands by boat  full day - shared 
Included
Pick up from your hotel in Puno and transfer to the harbor of the lake Titicaca
Tourist boat transportation with toilet facilities on board
All entrance fees
Professional English speaking tour guide
Lunch included on the taquile island
Drop off at your hotel in Puno at the end of the tour
Itinerary Uros Island and Taquile
06:30 hrs. Early in the morning you will be picked up from your hotel in Puno by our local guide and then transferred to the harbor.
We start off our boat excursion of Lake Titicaca by visiting "The Uros Floating Islands", a small community that has lived on these reed Islands for decades.  The Uros people harvested the reeds in the shallows of the lake, bundled them together tightly and built floating island platforms complete with reed houses and canoes, creating in this way their own little world.
After strolling around the floating Islands, we continue our journey towards "Taquile Island" (2-hour approx.), a traditional Quechua speaking community, full of ancient agricultural terraces. The Taquile population was relatively isolated from the mainland until 1950s, and the notion of the community and family is still very strong among them. The weaving tradition of the Taquile Island goes back to early civilizations thus keeps elements from pre-Inca Andean cultures alive in the present.
We will be back in Puno by 17:00 hrs. Approximately.
What to bring? Gloves, wooly hats, chocolates and a bottle of water. Sun block is extremely important.
At 20:15 hours we will pick you up from your hotel in Puno then we will transfers you to the bus station in Puno to travel by CRUZ DEL SUR night bus heading our journey to Cusco it takes you 7 hours.
Departure: 22:00hours (we should be at the station one hour before)
Arriving in Cusco: Next day at 4:30am and our driver will wait you at the bus station to picks up you and transfer you to the hotel.
The tickets will be sent to you in advance.
Day 6. Arrival in Cusco - free day by your own
The bus will arrive in Cusco at 4:30 am approximately.
Our driver will wait you at the bus station.
Transfer to the hotel in Cusco then it will be free day.
Overnight hotel standart ***  Doubles or twins rooms
Day 7.  Machupicchu full day from and to Cusco with private tour guide in Machupicchu
Very early in the morning we will pick you from your hotel in Cusco to the train station, to start your Machu Picchu trip for 1 day. In Ollantaytambo or Poroy you will board the train that passes through the Sacred Valley of the Incas until we reach the town of Aguas Calientes.
Our tour guide will wait you an pick you up at the train station in Aguas Calientes Machupicchu.
Then we will catch the bus to get in the citatel of Machupicchu.
We will pick you from the train station in Aguas Calientes to take you to the bus station, we will take the bus that will take you to the Archaeological Sanctuary of MachuPicchu. The trip lasts 30 minutes, we will finally arrive in MachuPicchu where you will recharge your energies and also enjoy the breathtaking view from the top of the mountain where our guide will begin the guided tour so you can know better the history and architecture of the Inca Citadel of Machu Picchu. Visiting Machu Picchu: In the afternoon we will board the train back to Ollantaytambo or Poroy where we will pick you up from the train station to transfer you to your hotel in Cusco.This is how you end your Machu Picchu one day tour.
We will give you admission tickets in advance. 
 Back to Cusco same way.
Overnight hotel standart *** Doubles or twins rooms
Day 8. Sacred valley private tour: Chinchero - Moray - Salineras - Urubamba - Ollantaytambo and Pisac
07:00 This tour travels the length of the Sacred Valley, stopping in the key sites of interest of Chinchero, Moray, Salineras, Urubamba, Ollantaytambo and Pisac. We will visit the typical market and archeological site at Chinchero, our next stop Moray y Salineras. Next stop is for lunch in -Urubamba, after which we continue our journey to Ollantaytambo.
This small town is filled with well preserved Incan architecture, boasting the last Incan complex to be built – in fact they never finished this fortress! In Pisac you have a choice of visiting either the colorful traditional market or the Incan ruins  your preference must be specified on booking the tour.
Overnight hotel standart *** Doubles or twins rooms.
Day 9. Cusco - Hike alternative Palccoyo rainbow mountain 
We highly recommend doing the three Rainbows hike and get to know these postcard-like mountains and its unique landscape. The Rainbow Mountains in Peru will astonish you immediately because of their variety of colors due to the existing minerals in the soil.
This is not the typical trekking tour to the Vinicunca Rainbow Mountain where you will be with hundreds of other tourists fighting to get the best photo with no people on it. This is the alternative rainbow mountain tour on which you will not only see "one" Rainbow Mountain but three and the hike is only 1 hour (1.5 km/0.9 miles each way) instead of 3 hours.
You might even be accompanied by an alpaca or llama during the hike. With us, you will arrive first at the Rainbow Mountains and also get to know more about the local community. 
Overnight hotel standart *** Doubles or twins rooms
Day 10. Transfer out to the airport at the time you prefer
We will pick you up from your hotel in Cusco at the time you prefer then to transfer you to the airport in Cusco.
End of the tour. We will drop-off you at the airport.
¨Thanks a lot for visit us.¨
Itineraries
Day 1
Your Arrival in Arequipa in the late Morning or early afternoon, Free day
Arrival time in Arequipa, free day.
Airport pick up & transfer inn
Overnigh hotel standart ***          Doubles or twins rooms.
Day 2
City tour in Arequipa
Day 3
Colca Canyon 2D/1N with short hiking in Yanque Village 
Day 4
Yanque village - Cross of Condor Canyon Chivay Puno by Sillustani 
Day 5
Visting Titicaca lake islands by boat  full day - shared
Day 6
Arrival in Cusco - free day by your own
Day 7
Machupicchu full day from and to Cusco with private tour guide in Machupicchu
Day 8
Sacred valley private tour; Chinchero, Moray, Salineras, Urubamba, Ollantaytambo and Pisac
Day 9
Cusco - Hike alternative Palccoyo rainbow mountain 
Day 10
Transfer out to the airport at the time you prefer
Breakfast x 8
Lunch x 1
8 Hotel night (standart hotel ***) double or twin room
Transportation by bus and train (pick-ups, drop-off, transfers)
Tour guide
Admission fee to Machupicchu
Food and drinks (breakfast, lunch, dinner, snacks, wine, soft drinks, etc.)
Fees (admission to Sacdred valley, hot spring, gratuities and what isn't mentioned in the itinerary)
-Raincoat or poncho
-Umbrella
-Lightweight clothing for layering
-Bathing suit (or two)
-Lightweight shorts and pants
-T-shirts
-Warm pajamas
-Wool sweater
-Light jacket
-Nice outfit for a night out in Lima
-Cross-body purse for city touring
-High SPF broad-spectrum -Sunscreen
-Brimmed hat
-Warm hat
-Sunglasses
-Camera
-Power adapter
-Cell phone
-Sneakers or other walking shoes
-Hiking boots (waterproof is ideal)
-Daypack or small overnight bag toiletries
-Toilet paper
-Personal medications
-Acetazolamide (altitude pill)
-Plastic bags
-Bug spray
-Underwear and socks (wool for hiking)
-Flip-flops
-Quick-dry towel
-Trekking poles (for challenging hikes)
-Insulated sleeping bag (for overnight hikes)
-Language app or dictionary for Spanish and Quechua