DaytripPilloneswaterfalls
Código del viaje
WT-CODE 230
Overview
Trip Outline
Trip Includes
Trip Excludes
Gallery
Reviews
Booking
FAQ
Day trip to Pillones waterfalls from Arequipa - Private tour

Explore the Pillones waterfalls and the Imata Stone Forest with this excursion.
A beautiful nature is waiting for you in the heart of Arequipa!!!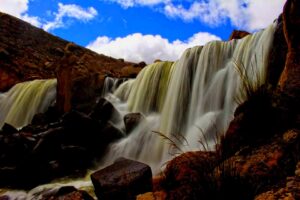 Day trip to Pillones waterfalls from Arequipa - Private tour
6:00 am we will undertake an excursion to the Pillones waterfalls, located at 4600 meters above sea level, we will enter this peculiar enclave to discover a most special natural environment.

Before reaching the Pillones waterfalls, we will find dozens of rocks that have been shaped by the erosion of water over time. We will cross these curious formations until we reach the waterfall. We will make this path with special care, since it is a difficult access route. What an adventure!

Once in front of the waterfalls we will be able to take incredible photographs then enjoy the warm weather and contemplate the typical flora and fauna of the region. In addition, we can pose before the camera imitating the different shapes of the stones that you will have around you. Prehistoric animals, monsters, faces ... It will be a lot of fun! In this place we will also leave time for you to eat something on your own.

Finally we will begin the return tour and we will be at your hotel in Arequipa at  5:00 p.m. approximately.
Itineraries
Day 1.
Día : 14 de octubre de 2020
Hora : 6:00 AM
Arequipa - Catarata de Pillones
06:00 Hotel pick up
Excursion to the Pillones waterfalls,4600 m. a. s. l.
13:00 Back to the city
17:00 Hotel Drop-off
Tourist transport

Official bilingual tour guide

Hotel Pick up
-Bottle of water
-Snacks
-Sun protect
-Suitable clothes for short hiking