Código del viaje
WT-CODE 458
Overview
Trip Outline
Trip Includes
Trip Excludes
Gallery
Reviews
Booking
FAQ
Salinas Salt Lagoon tour in Arequipa - Shared tour

Discover the small hidden salt flat of Arequipa.
Just a few hours from the city  you will be amazed by the landscape and nature that exists in this beautiful place.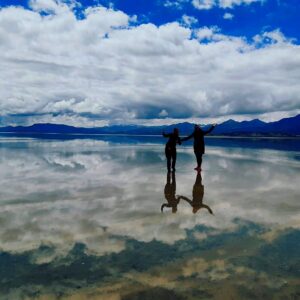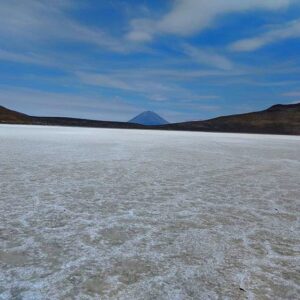 Salinas Salt Lagoon tour in Arequipa - Shared tour

Departure: 06:30
End of the tour: 17:00
Salinas salt lagoon is located at the back of the Misti volcano and the mountain of Pichu Pichu, from Arequipa it can be reached by paved road towards Baños de Jesús and Chiguata (3000M) and then uphill following a dirt road and potholes in the slopes of Pichu Pichu passing a peculiar Andean forest known as queñuales and de la Yareta (Azorella compacta) - the distance from Arequipa to Salinas laguna salada is 68km and the driving takes around 3 hours - the road passes through Misti volcano and Pichu Pichu mountain.
We visit the following places following the left bank:
Salinas Luicho where we will find native life, South American camelids such as vicuñas guanacos and also alpacas llamas.
Ojito of thermal water.
Wildlife such as birds of many species Salinera de Sal, we can enter if there is little water in the lagoon.
Ñuñu volcano.
Ubinas volcano viewpoint.
Total walk: 3km maximum, most visits will be done by car.
Itineraries
Day 1
Hora : 6:00 AM
Arequipa - Chiguata - Salinas Salt lagoon
Shared Tourist transport

Tour guide

Pick up from the hotel (only if it is located around the downtown)

Water and snacks
Personal equipments (jacket, hiking shoes, sunglasses)
-Snacks
-Water bottle
-Comfortable clothes and shoes for short walks
-Sunscreen
-Windproof jacket
-Cash