Overview
Trip Outline
Trip Includes
Trip Excludes
Gallery
Reviews
Booking
FAQ
3-Day Colca Canyon Trekking from Arequipa ending in Puno
Discover One Of Deepest Canyon In The World in only 3 days ending in Puno!!!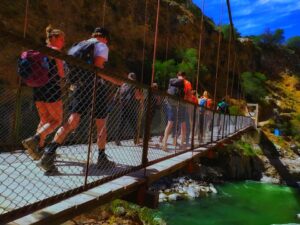 3-Day Colca Canyon Trekking from Arequipa ending in Puno
Day 01.  Arequipa – Cross of condor – San Juan de Chuccho
Wait us ready in your hotel in Arequipa at 03:00. Our tour guide are going to pick you up between 03:00 to 03:30am.
Departure to the Colca Canyon direct travel to Chivay where we are going to have breakfast then head to the Cruz del Condor to see the majestic flight of the condors then we go to the town of Cabanaconde, 10am little break and begin the hike heading towards the Colca Canyon depth of 3 ½ hours, we go down a road sign with zigzag curves and we arrive to San Juan de Chuccho village inside the canyon there we have lunch.
Free afternoon to relax.
Dinner & Overnight
04 hours of trekking in the day.
Day 02. San Juan de Chuccho-Sangalle (oasis)
After breakfast we start the hike to Sangalle (oasis) place we go through the villages of Cosñirhua, Malata to see their crops and their people the way is  flat and down then will get in Sangalle (oasis) after 3 hours. When we get there we are going to have lunch then we have free time to  enjoy the fresh and rejuvenating pools in the lodge.
Dinner & overnight.
Day 03. Oasis - Cabanaconde - Chivay - Puno

We start the hike at 5:00 am to Cabanaconde town this hike is the lasts part it will take us around 3 hours up hill in zig zag(climb). Upon arrival at Cabanaconde we have breakfast.
09:30 we catch our tourist bus to Chivay with some stops in the way to visit viewpoints and  the hot spring. At the hot spring we have 45 minutes free to enjoy there.
12:00 Lunch time in Chivay (optional and with your expenses)
12:45 the tour guide will drop off you in the bus to leave to Puno then we go with couple stops in the volcanoes viewpoint and the national park.
19:30 Arrival  in Puno (main square)
Pick-Up Location: If you are staying in the downtown, we will pick you up from your hotel in Arequipa. Otherwise, you must to be at 03:00 in the Main Square (in front of the Cathedral).
Drof off: Puno main square.
Oficial live english tour guide
Shared tourist bus
2Nights in the Canyon // bungalow made of bamboo and mud
Meals 03 Breakfasts //02 lunch //02 Dinner
Hotel pickup /drop-off if it is located in downtown
Transfer to Puno by touristic bus with stops
Last lunch in Chivay (third day *optional)
Entrance fee Colca ticket 70 soles each one (mandatory)
Hot Spring (third day) 15 soles each one *optional
*** Transport on mules only emergency cases***
- Cash to pay the Colca entrance fee TKT 70 soles p / p (mandatory)
- Cash for the last lunch 35 soles p/p & for hot springs then 15 soles (both are optional on last day)
- Suitable Clothing for cold / wind / sun / rain
- Flashlight
- Trekking backpack and everything for trekking (only necessary things for 3 days of hiking)
- Good hiking boots
- Snacks / water bottles
- Towel / toilet paper
- Sunscreen and hat highly important
- Hiking sticks (If you don't have you can buy bamboo sticks at the starting point)